23 April 2013 by Tim Nadin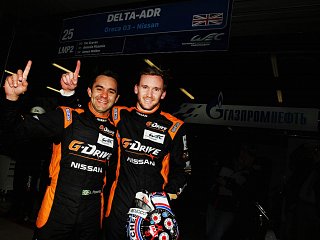 IWI Watches Ambassador James Walker this weekend secured a fantastic LMP2 victory at Silverstone in the opening round of the FIA World Endurance Championship.
Saturday's qualifying session saw James and his teammates; Antonio Pizzonia and Tor Graves put the No.25 G-Drive Racing by Delta-ADR car on pole position in the LMP2 class.
The skies over Silverstone promised rain throughout Sunday, which made tyre choice difficult for the World Endurance Championship teams. At the rolling start, James' No.25 G-Drive car held position in P1, hotly pursued by the sister G-Drive No.26 car.
The No.26 sister car managed to briefly pass the No.25 car but then the rain that had been threatening all weekend fell causing the track conditions to become very tricky. The No.26 car spun while the No.25 car managed to stay on track, elevating it to P1.
After six hours of racing, the No.25 car of James Walker, Antonio Pizzonia and Tor Graves crossed the line as LMP2 winners.
James Walker commented; "The win at Silverstone was a real team effort. I had two fantastic teammates who pushed hard all weekend and we secured the double whammy – pole position and the win! The G-Drive Racing team made some great decisions on strategy in what was a tricky race weather-wise and that, coupled with some brilliant driving by my teammates, meant we ended the opening race of the season in the best possible way – on the top step of the podium. I also want to say a big thank you to IWI Watches for their continued support and for providing me with one of the most iconic racing helmet designs in the field!"
G-Drive Racing by Delta-ADR's Simon Dowson commented; "I would just like to congratulate all three of the drivers who took the win. They are all 'pros' in their own right and did a brilliant job in very tricky conditions."
IWI Watches CEO Tim Nadin commented; "James' result at Silverstone was the perfect start to the year; you can't get any better than pole and a win! IWI Watches is proud to be supporting James again this season and we're looking forward to celebrating some more wins later in the year!"