22 April 2013 by Tim Nadin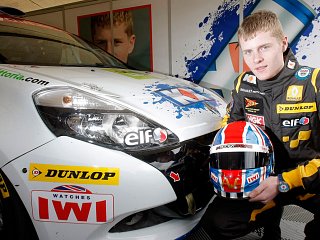 The KX Academy is a bursary programme funded by Tesco energy drink brand KX Energy, and targets 18-30 year old drivers competing in motorsport, and aims to develop their skills to give them a better chance of turning motorsport into a career.

Anthony had a solid start to the season at Brands Hatch during the opening rounds of the Championship; scoring a 6th and a 7th place finish. Next up is Donington Park this weekend for rounds three and four.
Anthony Whorton-Eales commented; "It's a real honour to have IWI Watches supporting me at this point in my career. Knowing the other drivers and championships that IWI support, I can only take huge encouragement from being part of the ambassador programme."
Anthony Whorton-Eales continued; "It's my second year in the Renault Clio Cup and I will be looking to build on the success of 2012 where I scored some great podium finishes. I will be pushing hard to get some even better results this season."
IWI Watches CEO Tim Nadin commented; "We're very pleased to be supporting Anthony this year. Although only 18 years old he's already had some fantastic results in racing and we're looking forward to celebrating many more of them with him this year."
Renault Clio Cup 2013 calendar:
31st March, Brands Hatch
21st April, Donington Park
5th May, Thruxton Circuit
9th June, Oulton Park
23rd June, Croft Circuit
4th August, Snetterton Motor Racing Circuit
15th September, Rockingham Motor Speedway
13th October, Brands Hatch