13 June 2016 by Tim Nadin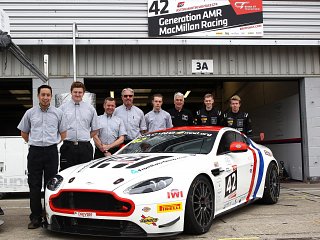 The weekend had started well - a fine performance in Free Practice carrying over into Qualifying, Matty Graham and Jack Mitchell putting the car 5th in the 33-car GT4 field. This weekend's GT4 entry was boosted by competitors from the GT4 European Series, making their British debut, adding to the spectacle for fans and to the challenge for drivers in both GT3 and GT4. Luckily, the full Silverstone Grand Prix circuit offers a little more elbow-room than some other tracks on the calendar!
Competition-winner Carla Orszulik marked the spot on the grid for the no. 42 Aston Martin on Sunday's bumper grid but it was a long way from summer weather, as the race got underway, with Jack Mitchell taking the start.
In wet conditions, Jack immediately set about his task, moving up to 3rd in the class in the early stages, before a Safety Car triggered a massed rush for the pits, teams keep to get one of three mandatory pit-stops out of the way.
Matty Graham took over the no. 42 Aston but unfortunately, was caught out by the conditions on his out-lap, spinning into the gravel. Eight minutes were lost, as the car was recovered to terra firma, dropping to 15th place in the British GT championship GT4 field. A long fight-back was now the mission.
As conditions on-track improved, cars started to pit and take on dry-weather, slick tyres. The generation AMR crew again performed a flawless stop but the call to switch rubber was, in hindsight, a little later than ideal and again time was lost to rivals.
By the time both drivers had completed their two mandatory stints and the chequered flag flew, they had fought their way up to 11th among their British GT class rivals. Scant reward for their efforts and potential but there were lots of positives from the weekend, as the boys both got plenty of seat-time, the team made progress with the car and the whole crew worked even better together than ever.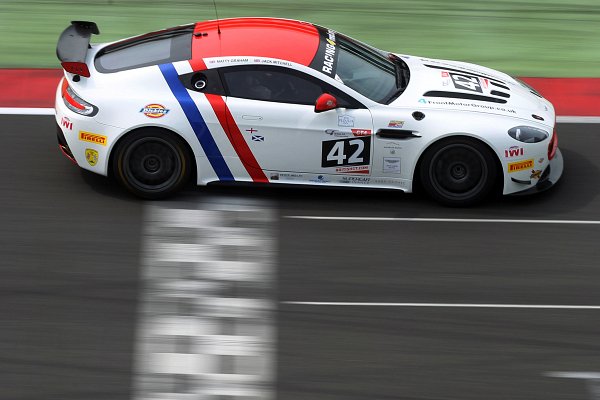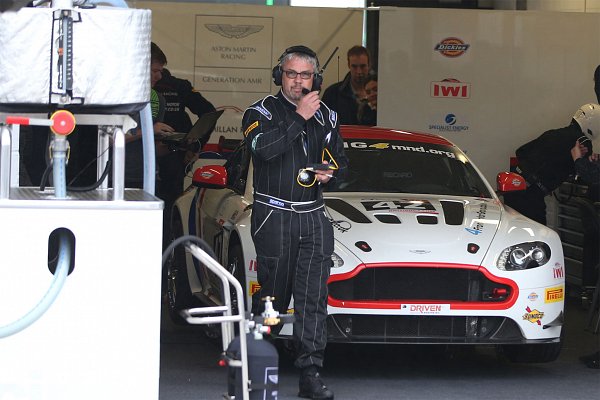 It would have been a different story, if it had been dry," reckoned Jack Mitchell, but that's how it goes. The changes to the car gave Matty and me a bit more confidence and feel. We knew we had an issue with straight-line speed but 5th was a great effort in qualifying from both of us.
"The car felt good in the opening stint, even though the track was incredibly slippery and there was little visibility but we showed we can be very competitive, even in tough conditions like that."
"When I took over, I was a little out of my comfort zone," said Matty Graham, "as I've never really driven the car in the wet and you have to be really on it immediately. Unfortunately I lost the back under braking at the end of the Hangar Straight and got stuck in a gravel trap.
"We lost a lot of time, sitting in the gravel, which was a big price to pay for a little mistake but we knew he had to get back on it and try to chip away at the leaders' advantage. And once again, when we were on slicks, towards the end, our dry times were very close to the front-runners, which was very encouraging."
"In hindsight, our lack of experience caught us out," added Jack, "as we didn't make tyre decisions quite as sharply as some of our rivals and next time, perhaps we will have the confidence to go for slicks earlier, based on what we now know."
"I'm incredibly proud of the Generation AMR Macmillan crew," said Team Principal David Macmillan. "Tough conditions, a field the like of which no-one has seen in years and the longest race of the season at an epic track – this was a major challenge even for teams that have been together for years, never mind a brand-new outfit like ours.
"We never underestimate the challenge that we've set ourselves and today, everyone had to dig deep, not to let their heads drop when fate didn't smile on us. They did exactly that and we have added immeasurably to our data banks.
"Next up is Spa and, if Silverstone was slightly intimidating in its scale, Spa is going to be something else. Everyone who's raced there has so many great things to say about the track, we just can't wait to get there and find out for ourselves. Look out, Belgium – we're coming…"