18 October 2014 by Tim Nadin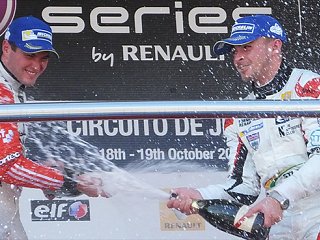 Will Stevens, IWI Watches ambassador, returned to the top step of the Formula Renault 3.5 Series podium at Jerez in Spain this afternoon, thanks to a sensational lights-to-flag drive from series front-runner in round 16.
Having earlier taken his maiden FR3.5 pole position for the weekend's opening encounter, the 23-year-old controlled the race from the outset. Opening up an advantage of more than a second on the first lap, Stevens increased his lead to 1.7 seconds by the end of the third tour and remained over a second clear up to mid-distance. Countryman Oli Rowland closed to within just 0.5 seconds by the end of lap 16 but Stevens re-asserted himself and built his lead back up to almost 1.5 seconds with seven laps to go. Driving a faultless race, the final few laps were nonetheless tense for Stevens and Strakka as Rowland closed back in. With nothing to separate the pair on the final lap out of the last corner, Stevens just managed to pip his rival on the line by 0.078 seconds.
"I'm really happy with how today has gone," said the jubilant winner, "Pole position and winning the race is the perfect way to start the weekend. We have improved on what we needed to and we can finally show what we are capable of – it's very pleasing to be able to do that and to finish the year off in style.".